INFLEX HDCW – PREINSULATED PIPES FOR DRINKING AND SANITARY WATER
Carrier pipe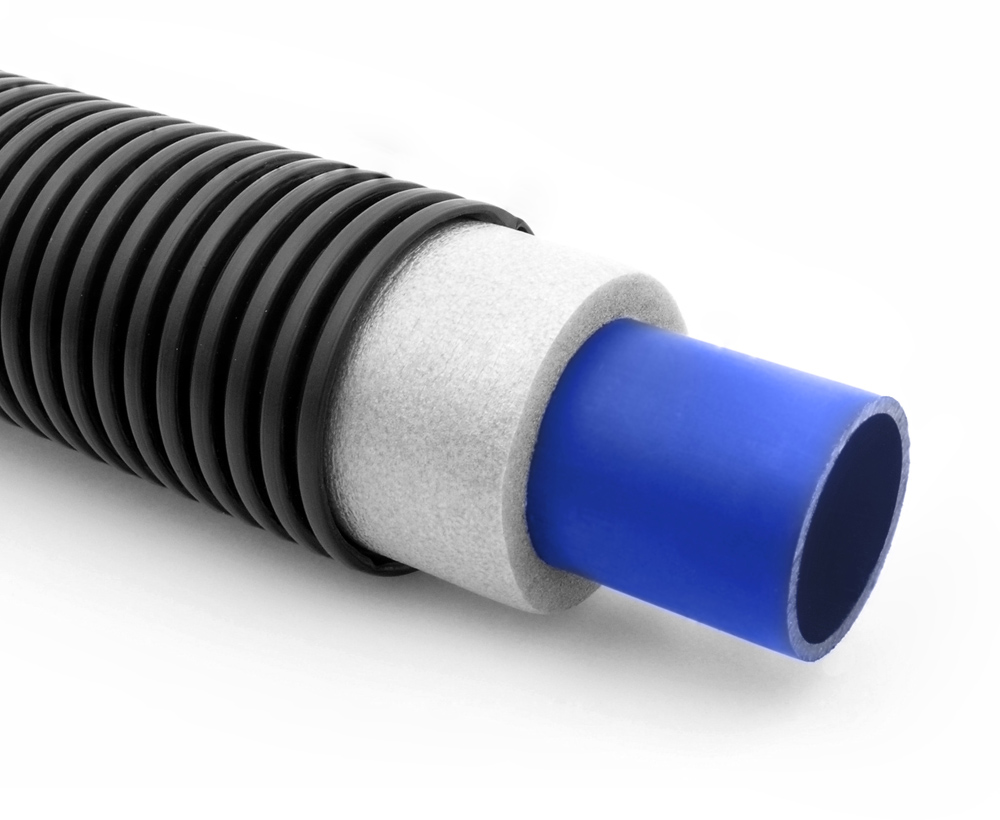 Material:
HDPE 100
Type: SDR17 PN10 / SDR13,6 PN12,5 / SDR11 PN16 /
SDR9 PN20
According to PN-EN12201-2

Applications:
heating, sanitary, industrial installations

Working temperature:
from -10 °C to +20 °C
When using permanent operating temperature higher than +20 °C to +40 °C, pressure reduction factor is:
+20 °C: 1,0
+30 °C: 0,87
+40 °C: 0,74
Insulation
Material: Extended polyethylene closed cell foam (EPE)
Produced without (H)CFCs
Density: 30 kg/m­3 [±15%]
Water vapour resistance: >3.000 µ
Water absorption: B – 1 %
Chemical resistance: excellent
Flammabilty (reaction to fire): Class F / E / D
Exterior protection pipe
Type: RIW
Material: polyethylene mod. (HDPE-mod.)
Water vapour permeability: minimum
Mechanical strength: 500N
Impact resistance: 2,0kg/100mm
Chemical resistance: excellent
UV resistance: 2 years
---
Application:
Inflex HDCW is designed for transporting cold drinking and sanitary water. The system consists of an HDPE pipe insulated with flexible foam and enclosed in a corrugated pipe for outside protection. A multilayer layer of soft foam EPE provides excellent thermal insulation in a wide temperature range. Insulation's closed-cell structure prevents water absorption and water vapour permeability, and is resistant to mechanical deformation.
These pipes have high mechanical strength (500 N), high-impact resistance and flexibility which makes them easy to install. Pipes are recommended for all types of construction, outdoor applications and industrial applications
Pipes are available in 6 meter straight lengths and in coils of 25, 50 and 100 meters.
Available diameters
Carrier pipe diameter (mm)
Pipe symbol
Insulation thickness (mm)
Outside diameter (mm)
Heat emission
W/m
Minimum bending radius (mm)
32
HDCW 32x63
11
63
7.02
220
32
HDCW 32x75
14
75
5.69
230
32
HDCW 32x90
21
90
4.31
240
32
HDCW 32x110
31
110
3.41
260
40
HDCW 40x63
7
63
12.24
310
40
HDCW 40x75
10
75
8.71
320
40
HDCW 40x90
17
90
5.84
330
40
HDCW 40x110
27
110
4.3
340
50
HDCW 50x90
12
90
9.06
430
50
HDCW 50x110
22
110
5.82
440
50
HDCW 50x160
44
160
3.62
460
50
HDCW 50x200
62
200
2.93
480
63
HDCW 63x110
15
110
9.18
540
63
HDCW 63x160
37
160
4.69
560
63
HDCW 63x200
56
200
3.6
580
90
HDCW 90x160
24
160
8.59
1100
90
HDCW 90x200
42
200
5.52
1150
110
HDCW 90x160
14
160
16.2
1150
110
HDCW 90x200
32
200
7.91
1200
125
HDCW 125x200
25
200
10.92
1300