RIS-HF-FR (-P) SELF-EXTINGUISHING CORRUGATED CONDUIT FOR ELECTRICAL INSTALLATION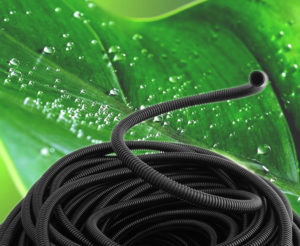 Mechanical strength: 750N (medium) 3
Impact resistance: 2,0 kg/100mm (medium) 3
Temperature range (application, installation):
from -25°C to +110°C 4 3
Flexibility: pliable 2
Flammability: self-extinguishing HB (Ul94)
Material: special plastic
EU Designation (EN 61386-1): 33432
---
Application:
Corrugated conduit is used for distribution and protection of cables in building and industrial electrical installations. Recommended for places, with an increased risk of fire hazard (wooden constructions, lofts, garrets, etc.) and tightened security against toxic chemical compounds (halogen free). It ensures high strength and resistance to mechanical factors. Pipe has ideally smooth surface. In spite of good strength properities it features high flexibility. Smooth inner profile enables easy cable installation in long sections.
Characteristics of material:
Free from halogen (phosphorus and cadmium) self-extinguishing/flame retardant, high-bending and crack resistance, well balanced elongation and elasticity behaviour as well as high abrasion-resistance, high tensile strength, rigidity, high impact strength.
---
Standard diameters
Nominal diameter
DN (mm)
Inside diameter (mm)
Outside diameter (mm)
Coil length
(m)
16
10,5
16
25, 50, 100
20
15
20
25, 50, 100
25
19
25
25, 50
32
26
32
25, 50
40
33
40
25
50
43
50
25
63
54
63
25
---
Resistance to selected chemical compounds
| | | |
| --- | --- | --- |
| Acids | weak | high |
| | strong | high |
| | oxidized | lack |
| | hydrofluoric | medium |
| Bases | dry halogens | medium |
| | weak | high |
| | strong | high |
| Solvents | alcohols | high |
| | esters | medium |
| | ketones | medium |
| | ethers | medium |
| | chlorinated hydrocarbons | medium |
| Oil and diesel materials | benzene | medium |
| | petrol | medium |
| | diesel mixtures | medium |
| | mineral oils | high |
| | fatty oils | high |
---
Places of Applications
| | |
| --- | --- |
| Wall installations | recommended |
| Sunk installations | recommended |
| Outer wall installations | not allowed |
| Plaster walls | recommended |
| Combustible surfaces (wood, etc.) | recommended |
| Underground installations | not allowed |
| Poured concrete, vibrated concrete | recommended |
| Steamed and vibrated concrete | recommended |
| Electrotechnical equipment, industrial apparatus | recommended |
| Control and automatics | admissible |
| Food and chemical industry facilities | recommended |
| Automotive industry | recommended |
| Shipyard industry | recommended |
| Aircraft industry | recommended |