RO SELF-EXTINGUISHING LIGHTNING PROTECTING PIPE AND CONNECTORS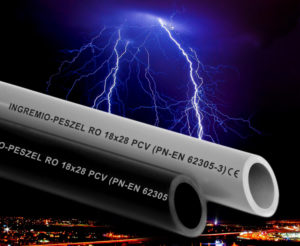 Mechanical strength: 1250N (heavy) 4
Impact resistance: 2,0 kg/300mm (heavy) 4
Temperature range (application, installation):
from -25°C to +60°C 4 1
Flexibility: rigid 1
Flammability: self-extinguishing
Material: lead-free, polyvinyl chloride (PVC-mod.)
EU Designation (EN 61386-1): 44411
---
Application:
Specially designed pipes used for distribution carrying wires lightning protection systems in building and industrial electrical installations (according to EU designation PN-EN 62305-3)
Pipes protect against a stroke of lightning nearby lightning protection wires.
Pipes are characterised by high mechanical strength and high rigidity ensuring effective protection the time of lightning struck and they prevent from damaging ang changing the colour of elevation walls.The products are highly resistant to UV radiation.
Characteristics of material:
Lead free, self-extinguishing/flame retardant, high mechanical strength coefficient and excellent percussion strength properties, little unit elongation, medium-elastic when tensioned, immune to pressures and most of chemical compounds, very good dielectric properties.
---
Available diameters
Nominal diameter
DN (mm)
Inside diameter (mm)
Outside diameter (mm)
Wall thickness (mm)
Volume of the package
RO 28
18
28
5
21 m / 7 pcs
connector ZRO 28
28
38
5
7 pcs
RO 32
22
32
5
21 m / 7 pcs
connector ZRO 32
32
42
5
7 pcs
clamp 28
28
100 pcs
clamp 32
32
100 pcs
---
Resistance to selected chemical compounds
| | | |
| --- | --- | --- |
| Acids | weak | high |
| | strong | high |
| | oxidized | medium |
| | hydrofluoric | medium |
| Bases | dry halogens | medium |
| | weak | high |
| | strong | high |
| Solvents | alcohols | high |
| | esters | lack |
| | ketones | lack |
| | ethers | lack |
| | chlorinated hydrocarbons | medium |
| Oil and diesel materials | benzene | lack |
| | petrol | high |
| | diesel mixtures | medium |
| | mineral oils | high |
| | fatty oils | high |