RS SELF-EXTINGUISHING RIGID PIPE FOR ELECTRICAL INSTALLATION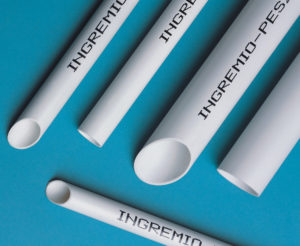 Mechanical strength: 750N (medium) 3
Impact resistance: 2,0 kg/100mm (medium) 3
Temperature range (application, installation):
from -25°C to +60°C 4 1
Flexibility: rigid 1
Flammability: self-extinguishing
Material: lead-free, polyvinyl chloride (PVC-mod.)
EU Designation (EN 61386-1): 33411
---
Application:
Rigid pipe is used for distribution and protection of cables in building and industrial electrical installations. Recommended for open surface as well as for under concrete installation. Pipe has ideally smooth surface.
Standard length of the rigid electro-installation pipes is 3 m.
Characteristics of material:
Lead free, self-extinguishing/flame retardant, high mechanical strength coefficient and excellent percussion strength properties, little unit elongation, medium-elastic when tensioned, immune to pressures and most of chemical compounds, very good dielectric properties.
---
Standard diameters
Nominal diameter
DN (mm)
Inside diameter (mm)
Outside diameter (mm)
Quantity in bundle
(m.)
13
10,5
13
60
16*
13
16
60
18
15
18
60
20*
17
20
45
22
19
22
45
25*
21
25
45
28
24
28
30
32*
28
32
30
37
32
37
18
40*
35
40
18
47
42
47
18
50*
45
50
18
63*
57
63
18
* PN-EN 60423 diameters
---
Resistance to selected chemical compounds
| | | |
| --- | --- | --- |
| Acids | weak | high |
| | strong | high |
| | oxidized | medium |
| | hydrofluoric | medium |
| Bases | dry halogens | medium |
| | weak | high |
| | strong | high |
| Solvents | alcohols | high |
| | esters | lack |
| | ketones | lack |
| | ethers | lack |
| | chlorinated hydrocarbons | medium |
| Oil and diesel materials | benzene | lack |
| | petrol | high |
| | diesel mixtures | medium |
| | mineral oils | high |
| | fatty oils | high |
---
Places of Applications
| | |
| --- | --- |
| Wall installations | recommended |
| Sunk installations | admissible |
| Outer wall installations | recommended |
| Plaster walls | recommended |
| Combustible surfaces (wood, etc.) | recommended |
| Underground installations | not allowed |
| Poured concrete, vibrated concrete | not allowed |
| Steamed and vibrated concrete | not allowed |
| Electrotechnical equipment, industrial apparatus | recommended |
| Control and automatics | admissible |
| Food and chemical industry facilities | recommended |
| Automotive industry | not allowed |
| Shipyard industry | not allowed |
| Aircraft industry | not allowed |