WKTD-PA6 RESEALABLE CORRUGATED CONDUIT FOR ELECTRICAL INSTALLATION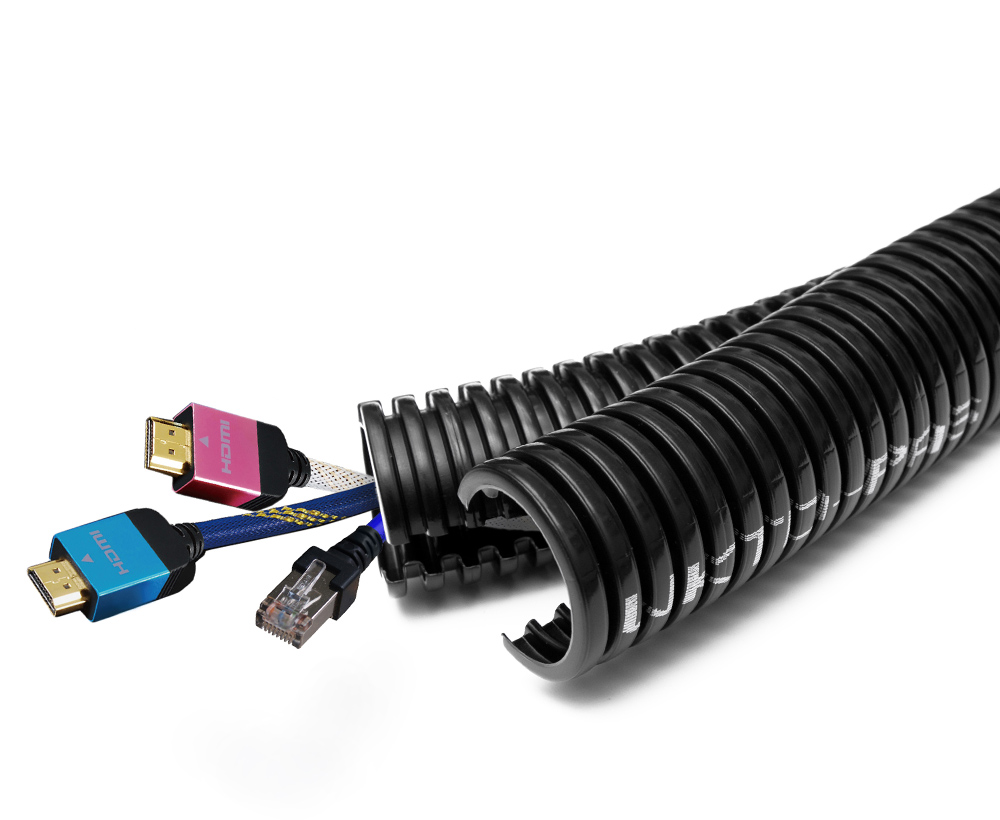 Mechanical strength: 500N
Impact resistance: 1,0 kg/100mm
Temperature range (application, installation):
from -25°C to +120°C
Flexibility: pliable
Flammability: self-extinguishing HB (UL94)
Material: polyamide 6 mod. (Pa6)







---
Application:
Resealable corrugated conduit consists of two slit pipes that perfectly match together after closing. Specially designed construction enables to opened it and closed it many times. Application of pipe provides easy access to the cables and wires, which allows modification of an existing installation and removal of defects. Particularly recommended in the engineering, machinery and telecommunications industry. Conduit is characterized by high flexibility and strength to mechanical loads.
Characteristics of material:
Free from halogen, phosphorus and cadmium, self-extinguishing/flame retardant, high-bending and crack resistance, well balanced elongation and elasticity behaviour as well as high abrasion-resistance, high tensile strength, high impact strength, very large thermal resistance, resistance to the most of chemical compounds.
---
Standard diameters
Nominal diameter
DN (mm)
Inside diameter (mm)
Outside diameter (mm)
Coil length (m)
41
30
41
50
41
30
41
2
---
Resistance to selected chemical compounds
| | | |
| --- | --- | --- |
| Acids | weak | lack |
| | strong | lack |
| | oxidized | lack |
| | hydrofluoric | lack |
| Bases | dry halogens | lack |
| | weak | high |
| | strong | high |
| Solvents | alcohols | high |
| | esters | high |
| | ketones | high |
| | ethers | high |
| | chlorinated hydrocarbons | medium |
| Oil and diesel materials | benzene | high |
| | petrol | high |
| | diesel mixtures | high |
| | mineral oils | high |
| | fatty oils | high |
---
Places of Applications
| | |
| --- | --- |
| Wall installations | recommended |
| Sunk installations | not allowed |
| Outer wall installations | not allowed |
| Plaster walls | recommended |
| Combustible surfaces (wood, etc.) | recommended |
| Underground installations | not allowed |
| Poured concrete, vibrated concrete | not allowed |
| Steamed and vibrated concrete | not allowed |
| Electrotechnical equipment, industrial apparatus | recommended |
| Control and automatics | recommended |
| Food and chemical industry facilities | recommended |
| Automotive industry | recommended |
| Shipyard industry | recommended |
| Aircraft industry | recommended |