AIRFLEX – Accessories
MUFFS- MKD
Mufffs made from black HDPE are available for every dimension of Airflex pipe. Muffs ensure fast, durable and break-resistant connection of pipes.
PIPE CAPS – EKD
Caps protect pipes against any contaminants during transport, storage and installation.

SEALS – UKD
Specially designed seals guarantee tight joining of pipes and low energy consumption of the system.

ELBOW FOR CONNECTING VENTILATION DUCTS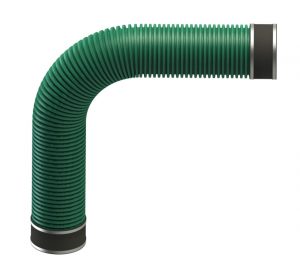 Airflex 90 ° elbow is designed for connecting ventilation ducts with large diameters with other elements of the ventilation system, where a 90 degree change of direction is required over a short distance.  Elbow comes in two sizes: DN 160 and DN200. The set includes two rubber connecting flanges.